Overview
A primary objective of the Business Payments Coalition (BPC) is to promote widespread adoption of electronic business-to-business (B2B) payments, remittance data, and invoices. In addition, the BPC supports the ISO 20022 standard for payments as a way to achieve operational efficiencies, improvements to treasury management and customer experience, and improved global interoperability.
As part of its efforts to modernize B2B payments, the BPC aims to support the industry's migration from checks to electronic payments. Electronic payments allow for businesses to take advantage of the benefits that digitalization brings, including lower costs, better cash management, error reduction, risk mitigation, increased transparency and improved automation for business processes.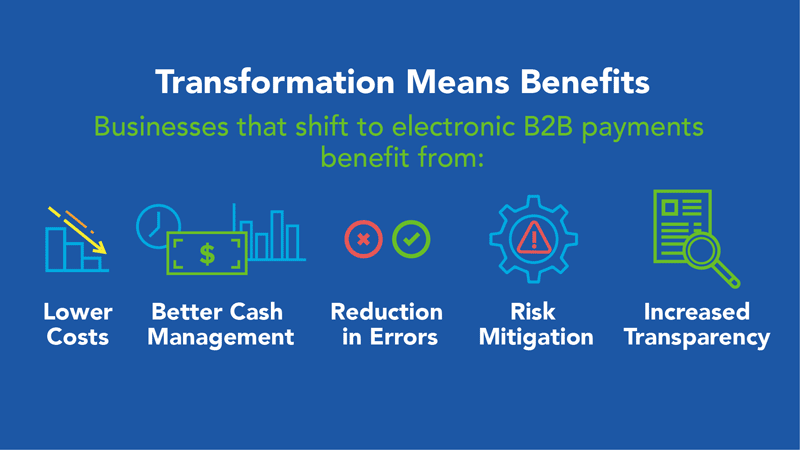 The Power of Exchange Frameworks
One of the key steps to achieving ubiquitous B2B electronic payments in the United States is establishing a standard way to send electronic invoices (e-invoices) and remittance (e-remittance) data between businesses. The e-invoice exchange framework, imagined by the BPC, is a way to do just that. This framework allows for improved payments efficiency by transforming B2B payments from a fragmented, multi-step process to an automated one that, ideally, achieves straight-through-processing.
To make this concept a reality, the BPC, with the support of the Federal Reserve, is working to pilot this e-invoice exchange framework with a market pilot set to go live in early 2022. The desired outcome of this market pilot is an operational B2B invoice exchange framework for the U.S. market. The BPC will also launch a Remittance Delivery Work Group in the Fall of 2021 to assess the e-invoice exchange framework architecture to understand if it can enable electronic delivery of remittance information. This is a challenge for the industry primarily due to the unstructured format and detached delivery of remittance information, however the BPC is committed to addressing major provider and end user pain points in sharing electronic remittance information. The infographic below details how exchange frameworks allow for the widespread exchange of e-invoice and remittance data.